Description

The Advanced Pack contains the entire set of Basic Pack products, plus bonus enhancers!
Lose weight safely and easily! Whip up two meal-replacement shakes a day with your favorite Formula 1 Nutritional Shake Mix flavor. Boost your intake of essential nutrients with Formula 2 Multivitamin Complex and Cell Activator, and shed unwanted kilos and centimetres for good. Herbal Tea Concentrate assists with it's thermogenic (fat-burning) action as well as improving health with it's antioxidant aspect.
A great way to jumpstart your way to good health! Get the benefits of our 3 Core Products as well as the Herbal Tea Concentrate with this Basic Pack.
Details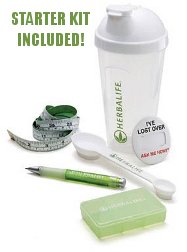 Key Benefits
Formula 1 Meal Replacement Shake Mix – Formulated with an exclusive blend of selected proteins, vitamins, minerals and herbs. Low in calories, low in fat and a valuable source of fibre. Provides 18 amino acids to help the body function at its optimum level. Now contains Aminogen, a naturally derived ingredient that helps the body break down protein into free-form amino acids. Also contains additional vitamins and minerals. Enhanced fibre blend for a smoother, easier mixing shake.
Formula 2 Multivitamin Mineral Complex – Multivitamin Complex with minerals and herbs is scientifically developed to provide nutritional support for individuals who may not obtain an adequate amount of essential nutrients from the daily diet.
Cell Activator® – Supports the body's absorption of micronutrients and promotes cellular energy production.
Herbal Tea Concentrate (50g or 100g options) – Enjoy it hot or cold, this powerful antioxidant beverage also contributes to the weight loss program by it's thermogenetic or fat-burning action.
Mineral Complex tablets – Reduces fluid accumulation, an effective way to lessen the appearance of dimpled skin. Contains extracts of dandelion, parsley and corn silk.
Weight Management Starter Kit – Includes shaker cup, Herbalife measuring scoop, tape measure, tablet container, pen and button. This is included free of charge for new customers.
Usage
Choose the Formula 1 Meal Replacement Shake Mix flavour you prefer. Add any Herbalife® Enhancers to this convenience pack to support your weight management.
Note
If you're using this program to maintain weight, it will last for 30 days. If you're using this product to lose weight, we recommend purchasing a 2nd canister of Formula 1 Shake Mix so that the program lasts 30 days. The 750g Formula 1 Shake mix will last 15 days if used in the recommended shake amount of 25g per shake, twice a day. The other products in this program will last 30 days.