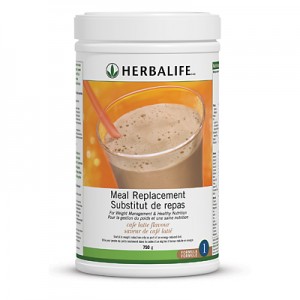 Herbalife's main shake is called "Formula 1 Meal Replacement". It's a core Herbalife product that can be used to lose, gain or maintain body weight.
The Formula 1 shake is versatile, once you've set your goal, use this shake to help you achieve that goal.
If you only ever try one Herbalife product, the Formula 1 Shake is the one to go for. It comes in vanilla, chocolate, berry, and cafe latte flavors.
For Weight Loss
Dieting by reducing food intake isn't ideal because if you starve your body of the nutrients it needs, your metabolism slows down and you get hungry, grumpy and tired.
The idea behind using the meal replacement shake shake is that you can reduce calorie intake while maintaining vitamins, minerals and nutrients essential to good health. Reducing your intake of fatty and sugary foods, while still getting good nutrition, is a healthier way to loose weight.
For those who want to loose weight, Herbalife recommends replacing 2 meals a day with Herbalife's Formula 1 shake. To ensure adequate vitamin intake taking 3 plant based multivitamins per day is also recommended.
For Weight Maintenance
Because of mass food production and soil depletion, food found in grocery stores today, in many cases provides a lot less nutrition than the same foods did 20 years ago. Herbalife recommends having one shake per day for good nutrition.
For Weight Gain
If you're athletic, your body needs even more fuel and nutrients. Performance suffers with inadequate nutrition. For very active people, Herbalife's Formula 1 shake can be consumed 3 times a day in addition to other healthy meals. It can help you gain lean muscle mass, and provide the extra nutrients that your body craves.
Healthy Snacking & Dessert
A Herbalife shake is a good alternative to reaching for candy bar or going for ice cream. For about $2, you could go for a Herbalife shake which has a sweet taste, but also provides excellent nutrition.
Pricing
The price for a canister of Herbalife's Formula 1 shake is $42.80 in Canada. This doesn't include shipping. With delivery, the cost is about $50.00.
Each canister provides 30 servings which means the cost ends up being less than $2 per shake.
Where to Buy Herbalife Formula 1 Shakes
You can contact an independent Herbalife distributor who can provide you with the full range of Herbalife products. You can also buy Herbalife products online, directly from a website like GreatHealth.ca. We have the Formula 1 Shake available for order and ship directly to your home.
Nutritional Information
Here's the Herbalife Formula 1 Shake mix nutritional data from the package label: