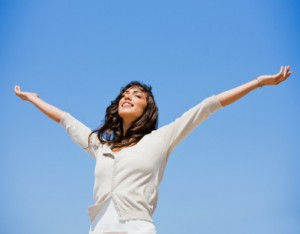 You could lose a pound a week by trimming 500 calories from you daily diet. Try some of the following food and beverage swaps:
Breakfast
Lose: Bagel with cream cheese, coffee with cream and sugar
Choose: ½ toasted whole wheat English muffin, low-fat cream cheese, 1 cup scrambled egg whites, coffee with non-fat creamer and splenda or stevia
Beverages
Lose: 20-ounce soda, 8 oz. orange juice and glass of wine
Choose: Ulimited water, naturally flavored seltzer, unsweetened tea or a splash (2 tbsp) 100% juice in your seltzer or water
Sandwich
Lose: Sub roll, mayo, processed meats such as bologna, salami, pastrami, ham or roast beef with regular cheese
Choose: Whole wheat bread or wrap, spicy mustard, lean turkey, chicken or tuna with low-fat cheese
Snacks
Lose: Candy bar, small bag chips, and 20-oz soda
Choose: Baby carrots, string cheese and an apple
Dinner
Lose: Steak, fried potatoes, dinner roll and buttered vegetables
Choose: Grilled chicken or fish, baked sweet potato fries, sautéed spinach, broccoli and tomatoes in 2 teaspoons olive oil and garlic
Alcoholic Beverages
Lose: 2 margaritas
Choose: 2 glasses red wine
In a Rush and On The Go?
Healthy snacking doesn't have to be inconvenient. Herbalife provides healthy snack solutions for when you're on the move or in a rush. These include high protein roasted soy nuts, protein bars packed with vitamins and minerals and other healthy snacks.